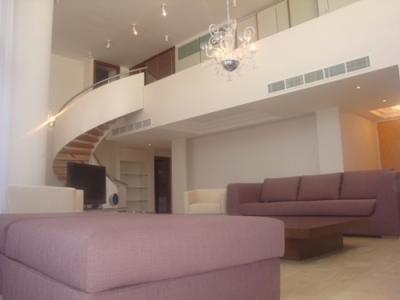 This comprehensive residential development designed in association with Nicos Mavronicolas Architects for J&P Ltd is located in Nicosia, Cyprus, on a landmarked street defined by excellent examples of modernist and mid-20th century residential architecture.
The design concept reflects challenging and contrasting environments; to the east the Gladstonos Street private residential streetscape; and to the west a seasonal river that defines a linear park lined with towering eucalyptus trees.
There are four multi-leveled detached townhouses lining Gladstonos Street. The center section accommodates garden and penthouse units entered through a sculpture court. Ground level, duplex and penthouse loft-type units, with undulating facades and deep terraces facing the river, are integrated into the natural landscape of the riverbed and linear park. All of the 34 units are served by underground parking and servant quarters.
http://onlineproperties.eu/index.php?residential-apartment-for-rent-agios-andreas-nicosia-cyprus&option=com_ezrealty&task=detail&id=805&Itemid=362